We got a puppy!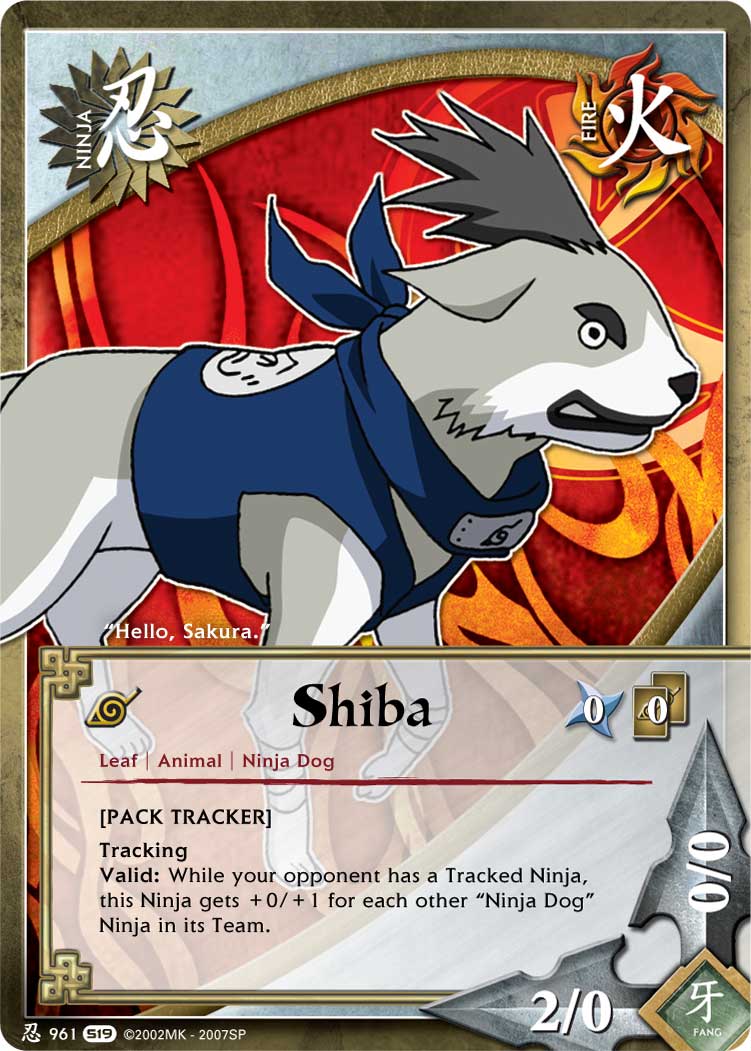 (Preview thanks to Matt Cruickshank of 2EZ)
At first, you'll dismiss this as just a another bad dog. But you have to realize that he is just that,
a dog
. The Dog archtype isnt one for the strongest ninjas or the best effects. Its meant to spam as many as you can. This is just another dog you can spam. With the release of The pain dog and this, and I am sure there will be several more, dogs could see a lot more play. The more dogs you have the more use out of Bull you can get. The inclusion of a lot more dogs also makes Surprise Help a lot better of a card. When you can constantly pick up dogs for turns and get your copies of biscuit in there a long with pulling dogs out of the chakra area makes dogs a fighting force next set. The use of all of those utilities to get out as many dogs as possible makes the already extremely good Scouting Party even better.
This guy specifically has one of the aspects that dogs lack, support. The only dogs that can achieve 2 or higher support are this and Haimaru Brothers. This guy can be very versatile. You can have him in pack of a dog to get the extra support to make a team 5+. You may see him as being a 2/2 ninja at best, but you are very wrong about that. Him in back of 2 other ninja dogs gives him two support, then if you add Bulls effect of adding another dog, he becomes a 3, then if you are blocked, you can add guroku into your team, making him a 4, then you could even use Summoning Jutsu: Ninja dogs to make him a 5 support, most likely causing an OV. So while on first glance you may think he isnt that great of a dog, but in conjunction with the rest of the support that the dogs have, he will most definitely see play in a dog deck.
_________________

Password

ANBU





Posts

: 344


Points

: 429


Join date

: 2009-09-14


Age

: 26


Location

: Butler, PA



Any extra dog that can be hit with Surprise help or be used to drop and extra Kiba or Giruko

visserac88

Shonen Jump Champion




Posts

: 291


Points

: 331


Join date

: 2009-07-01


Age

: 29


Location

: MN



sigh... another card tht wont see play...

_________________
talk shit get hit

Shenanigans

Shonen Jump Champion





Posts

: 136


Points

: 153


Join date

: 2010-09-12


Age

: 25


Location

: Fort Myers Florida





Similar topics
---
Permissions in this forum:
You
cannot
reply to topics in this forum